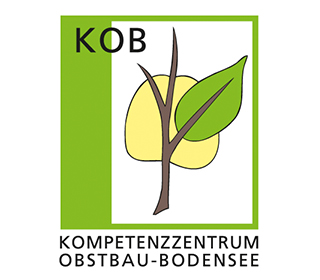 Kompetenzzentrum Obstbau Bodensee (KOB)
The Kompetenzzentrum Obstbau-Bodensee (KOB), previously known as the fruit research station of University Hohenheim, has 50 ha research orchards and facilities, and is situated in Germany's Southern fruit growing region – the Lake Constance (Bodensee) fruit growing district. The KOB is a non-profit organization, which allows for the same rights as a private company with the optional use of available resources and a rapid flexible response to the change of business conditions.
The KOB aims to advance fruit growing in the Lake Constance region and in so doing help preserve the regional developed agricultural landscape. Its role exists at the interface between science and its practical application, with work orientated to basic research on one side and applied research and provision of practical advice on the other.
The KOB crosses borders and works in cooperation with other regional fruit research institutions involved in transferring research results into fruit production and marketing. At least 7 researchers and more than 40 support staff work at the KOB organized in several work groups: fruit quality and storage, organic fruit production, cultivar trials, cultivar preservation center, production physiology, plant protection, application of molecular genetic technique, marketing and business management and experimental business. The KOB possesses of many years experiences with international and national research projects.
Role in FOX:
Testing the developed prototype for feasibility and practicability at pilot scale and in farm environment.
Developing innovative technologies for the quality analysis and selection of the products
Testing different conditioning and different packaging system for fresh fruit snacks and evaluate the different developed system.
Documenting the consumer engagement activities in Lake Constance Region.
Supporting the overall dissemination and communication activities