Food Circle 1: Low oxygen juice extraction and mild preservation
The aim
Food Circle 1 aims to develop small-scale mobile processing unit, that will enable:
High-quality fruit juices and puree production
Flexible production for different types of fruits
Practical and simple installation and operation on the farm(s)
During the harvest period, the mobile processing unit at the farm should process a peak amount of fruits without quality loss. High-quality fruit/puree production should be achieved with downscaled, innovative technologies for low oxygen juice/puree extraction and low heat preservation.
Juice production
The main processing steps in juice production are:
Sorting
Washing
Crushing
Juice extraction
Juice preservation
Juice Filling
These processing steps are mostly done on a large industrial scale. The challenge lays in downscaling these processes, meaning fitting them into a single processing line to match the mobile unit size. Researchers main focus will be on down-scaling and implementation of innovative extraction and preservation technologies.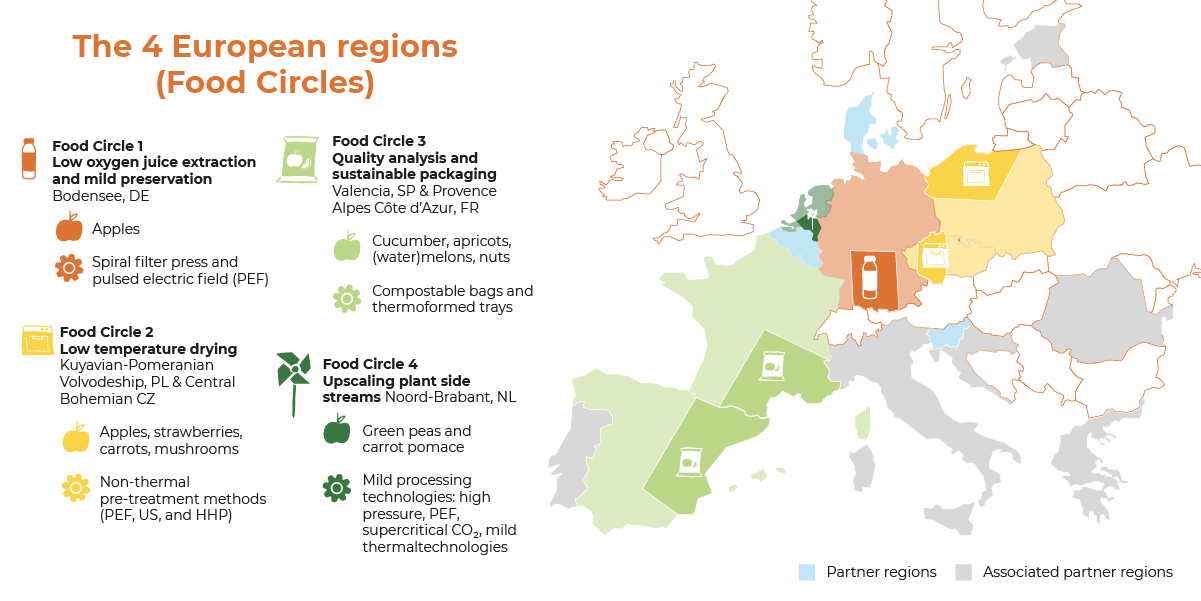 Technologies used
Spiral filter press
Spiral filter press is used for gentle low oxygen juice and puree preparation under vacuum conditions. This technology minimises the contact of freshly pressed product and air which results in more intense and more authentic colour, aroma and flavour. Furthermore, juice/puree processed this way has better consistency (viscosity) and richer nutritional composition, resulting in overall better sensorial and nutritional characteristics. This system provides better extraction and preservation of valuable compounds (no oxidation) in juice, compared to more traditional methods commonly being used.
Pulsed electric field (PEF)
The innovative mild preservation technology used is called Pulsed Electric Field (PEF) technology. PEF enables inactivation of spoilage and pathogenic microorganisms in liquid products, such as juices, purees, smoothies, milk, etc while minimally influencing (affecting) its fresh character. The advantages of PEF technique compared to classical heat pasteurization are lower energy consumption (it is more sustainable), higher efficiency (treatment lasts few milliseconds) and due to low heat treatment preservation of original colour, flavour and nutritional composition of juices/purees.
PEF (Pulsed Electric Field) technology is relatively new but already used by the juice industry in several countries. Project partners DIL and ELEA have successfully developed and realised PEF systems for low heat PEF preservation of liquids up to 10.000 l/h. The obtained knowledge and experience will be used for the design and building of a small-scale PEF unit with capacity range from 50 to 250 L/h, suitable for on-farm use.
There is no need for the addition of preservatives, colourants or aromas when combining these two techniques. The final product is all-natural.
The region
Prototypes of small-scale juice production units will be tested for feasibility and practicability at farms in the Lake Constance (Bodensee) region in Germany.
Project partners
The project partners involved in Food Circle 1 are DIL e.V, ELEA GmbH, KOB e.V and FALKENSTEIN GmbH.